MISSIONS AND OUTREACH

Our congregation is involved in mission initiatives locally, across the nation, and internationally.
Examples of our local outreach include: Habitat for Humanity, New Heart UMC Food Pantry, The Eastside Soup Kitchen, Old Town Christian Outreach, The City Rescue Mission and The Underground Railroad.
Our Youth Fellowship participate each year in a summer mission.
Our United Methodist Women do a tremendous amount of mission work on behalf of our congregation.  From supporting children and families locally to support of mission initiatives in Haiti and Liberia.  Our United Methodist Men's fellowship take on many hand-on endeavors for the church and community.
We have annual Miracle Offerings at Christmas, raising as much as $5,000 for a specific response to the needy.
We have a unique program called Community Connectors that supports the public schools with volunteers and additional financial resources as well as offering volunteer  support to community groups like the Saginaw Youth Symphony.
We support the mission endeavors of the larger United Methodist Church through what are called Apportionments at 100%.
WELCOME ALL!!  And All means ALL!!
We welcome EVERYONE regardless of Age, Race, Abilities, Class, Gender Identity, or Sexual Orientation.
Our building is friendly to those in wheelchairs.
Our church family welcomes Children and Adults with all kinds of special needs.
The

L

G

B

T

Q

I

A

+ Community will find Saginaw First UMC to be a safe, affirming, and welcoming church home and loving family.
FROM PASTOR AMY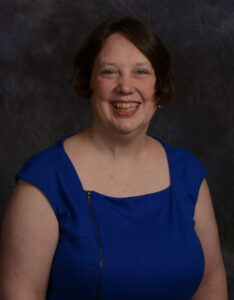 Thank you for taking a moment to stop by the website of First United Methodist Church of Saginaw.  We hope that this site provides a glimpse into the dynamic and vibrant ministry that we share through the power of Christ's Spirit working through this congregation.  There is so much to tell you about First Church – the depth, quality and leadership of our music ministry is unmatched in the area, a Youth Fellowship that brings in youth from all faiths and from various areas of the community, a unique Community Connectors ministry that truly makes our congregation one that Cares for and About God's Community.
I was commissioned into the ministry in 1999 and ordained an elder in the United Methodist Church in 2002.  I was appointed to serve here at Saginaw First UMC in July of 2016.  I am so excited to be part of the ministry going on here, and I encourage you to check us out.  Now is a great time to get involved.  If you would like to know more about our church, would like to be put on our mailing list or would just like to meet with me some time, please call or e-mail.  I look forward to meeting you and perhaps serving Christ together.
Your friend in Christ,
Pastor Amy Terhune
cell phone:  989-274-6363